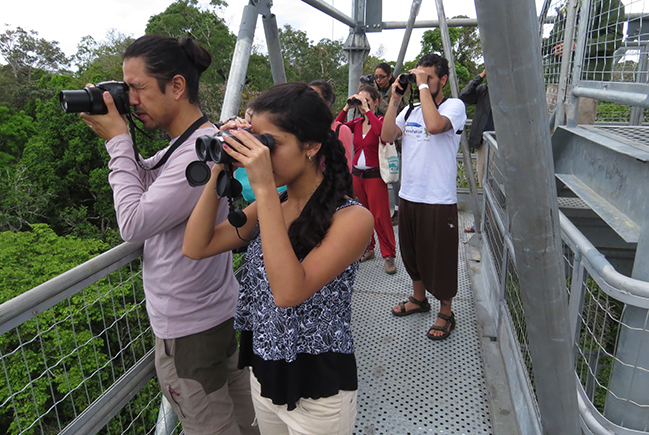 A 42-meter tower
We have built a tower, as one builds a temple, to appreciate and celebrate the forest. A primeval forest reserve, the Ducke Forest Reserve stretches over 100 km2 in the outskirts of Manaus. A 10 thousand-year history. The 242 steps that take us to the canopy are worth climbing. Slowly.
At dawn, around six o'clock, we are charmed to see the treetops emerging from the mist, awakening from the night. Birds come around, and, along with them, the bird watchers, who, in order to hear the songs or snap a bird picture, climb the tower with their binoculars and powerful telephoto lens.
Little by little, the mist dissipates and the green tones predominate. Inconspicuous in the horizon, the sun observes and illuminates. One can appreciate the plant life, the flowers and leaves that silently reflect lights and shadows. Hundreds of vibrant and distinct shades of green. Contagious.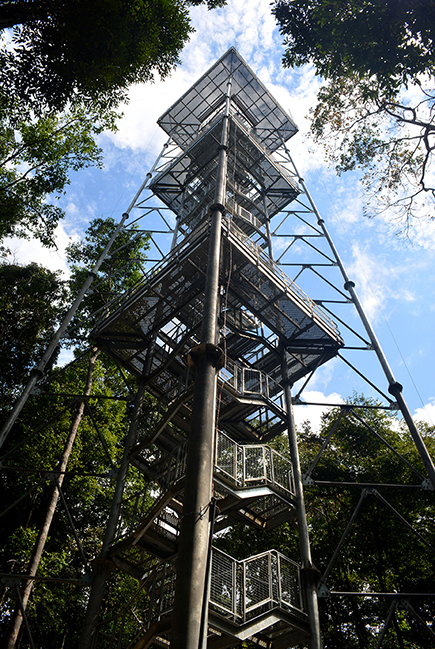 The 42-meter high steel tower, with 242 steps and an 80 sq. meter base, rivals the great forest trees in majesty. The three platforms, each placed at a height of 14, 28, and 42 meters, allow about 30 visitors scattered among the different levels to silently observe the birds and the greenery.
The tower also invites the observation of the sunset from 5:30 to 6:30 pm, depending on the time of the year. Even the night sky is appealing, as the tower has been used by amateur astronomers.
The tower is open for visitation Tuesday to Sunday from 9 am to 5 pm (The Musa entrance gate closes at 4 pm). Sunrise and sunset, birdwatching, and special hour visits must be booked in advance.